If you haven't owned a hot tub before, you might be asking yourself, "do I really need a hot tub"? In short, the answer is YES! Sure, a hot tub feels good, but it can improve your life in a great many ways. Here's a list of reasons you should put buying a hot tub on the top of your "to do" list…
1. Start your day on a positive note!
Set the coffee pot to brew an extra thirty minutes early, you'll be glad you did when you are immersed in hot water watching the sun rise on a new day. No matter what time of year it is or what the ambient temperature may be, there's something magical about sipping your coffee and enjoying a bit of quiet time before the chaos of the day sets in. Listen to the birds, watch the mist rise and the light come through the trees…all while you get a fantastic massage that will make your tired and achy body feel like new again! You can do that ab-workout later and let the kids sleep an extra five minutes, take time to center yourself and focus on you.
2. Loosen up those joints and muscles!
Our joints and muscles get tired and achy from repetitive motions and strains from activity. Stretching is good, but stretching in 104 degree water is even better. The heat will quickly loosen you up and improve your range of movements throughout the day . And the hydrotherapy benefits from the many jets will soothe away any aches and pains that the daily grind inflicts on your body. Twenty minutes of stretching and massage therapy in your hot tub will have you ready to cruise through any physical activity the day may present without soreness.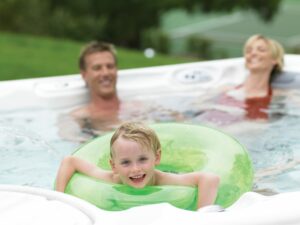 3. Quality Family Time.
Put down your smartphones, clear your busy social schedule and spend real quality time with the kids or your spouse. If the days of enjoying dinner and playing trivia games with the entire family seem like a distant memory, you need a hot tub! Nothing brings everyone together like a soak in the hot tub. Instead of texting and emailing your kids between soccer practices, enjoy an actual conversation with them while you have a relaxing massage. Better yet, invite their friends over and get to know them too! Nothing makes mom and dad cooler than owning a hot tub. Nothing. Research has proven that kids who spend more time with their families actually perform better in school and get better grades. Spend a few minutes in the hot tub with your kids and who knows what can happen, they might even start to like you! And if you feel like you never have time to catch up with that special someone in your life, a few nights (or mornings) talking and reconnecting with your loved one in your hot tub can bring the romance back to your relationship…W've even had couples tell us that their hot tub was a better investment than time spent with a therapist!
4. Eliminate the worst part of a massage…the ride home!
Don't you just hate it when you walk out of the spa, feeling all zen-like and relaxed, and just like that…your stuck in traffic with horns honking and idiots cutting you off…back to reality. Why not enjoy a massage tailored to fit your needs in the privacy of your own backyard?! No tips, no scheduling conflicts, no stressful ride home. Just you enjoying some well deserved "me time" in your hot tub.
5. Rediscover your inner child.

When is the last time you tuned out all of the daily distractions that come along with being a grown up and just gazed up at the stars? One of the best things you can do while you are soaking in your hot tub is look up at the starts and re-familiarize yourself with all of the constellations in the night sky. There's even an App for stargazing that allows you to point your smartphone at the sky and learn the positions of the stars during various times of the year. How cool is that? We grown ups get so busy with all of our important commitments that we forget to nurture our inner child. So, slip into that hot tub and soak in all the beauty and wonder that mother nature has given us! It will make you feel like a kid again.
6. Sleep better.
It's so simple. Spend twenty minutes in your hot tub before bedtime and you will enjoy a deep, restorative night's sleep. No pill can give you the kind of deep sleep like you get after soaking in a hot tub. No groggy side effects. No prescriptions needed. You'll wake up with fewer aches and pains from your massage and feel years younger than the night before. If that's not magic, I don't know what is!